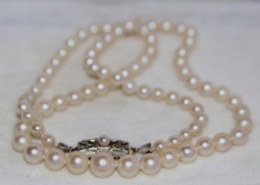 Dear All,
I was so happy to find this amazing community!
I fell in love with this necklace on Catawiki, but I am not sure I can trust the seller, as in last week auction s/he listed a necklace that was very similar, with a very similar description (handmade, Art Deco, c.a. 1930 made in Germany) and the pearls were NOT knotted (which I was told is the first thing to make sure if when you buy a Pearl necklace).
Anyways, this is the description:
Around 1935/1930 Art Deco necklace handcrafted in Germany with genuine salt water selected pearls. Strong geometrical handcrafted golden lock made with white and yellow gold.
Pearls with great regularity, ascending from 3.9 to 6.6 mm have very small natural growth mark and single dotted on a silk cord. 39 cm long.
Lock hallmarked 585/14 kt engraved JKA.
The estimated price is 400 euros.