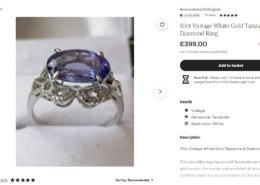 Hello
Thanks in advance to anyone who might take the time to read this and provide an answer.
I am thinking of buying a piece of tanzanite jewelry for the OH and spotted this on Etsy.
I guess the quality of the stone is not that great in terms of color. However, I like that it's quite generous in size and that the seller has provided clear images with the ring (a lot of online retailers have stock/edited photos etc).
The seller is not providing indications of carat weight or stone size. I *think* based on the stated diameter of 17mm and the photos that the stone might be about 12mm in length.
I was wondering if the asking price of 399 GBP (552 USD) is a fair market price or is it too steep?
The metal is 10ct gold and the weight is 3.2 grams.
https://www.etsy.com/uk/listing/921720644/10ct-vintage-white-gold-tanzanite