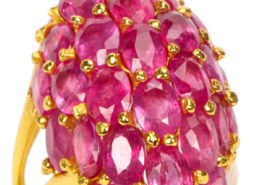 Website: catawiki.com
Seller: MAG – Mineral Art Gallery (Italy)
Item: 925 Sterling silver ring with lead glass-filled rubies (composite rubies)
Dear all,
There is this silver ring with rubies on catawiki.com: https://www.catawiki.com/l/33231319-precious-ruby-ring-in-925-silver-plated-with-14-ct-gold-31x30x20-mm-15-3-g
The auction ends tomorrow.
The seller claims these are 100% natural rubies. That alone is a rather bold statement, taking into account that most of the rubies on the market are heated nowadays.
Take a closer look and you will notice small bubbles within these rubies. These are gas bubbles that are present only in lead glass-filled rubies (also known as composite rubies). Composite rubies have serious durability problems and are extremely cheap.
Alike rings cost around $30 – $50. Thus, the expert's estimate is an extreme exaggeration.
Don't fall for this scam!