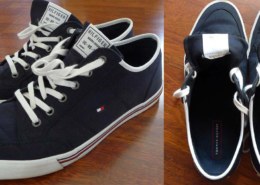 A few weeks ago I bought a new pair of Tommy Hilfiger textile sneakers at Brandsales. The model is called Core Corporate, I guess; code P15-THIFM0FM02676DW5_43.
It's a Lithuanian company, but the price was really good, and their shipping rates within the EU are good, too.
They are really comfortable. Actually, they are much better than my previous 2 or 3 pairs of TH sneakers that were a real pain in the butt.
However, there is one thing that I find really confusing. The tag (inside of the tongue) is absolutely blank. I mean, you can always find the size, information about the materials used, some codes, and "made in" info on these tags. This time it is totally blank.
Does that mean my sneakers are fake? Or it's some kind of marketing trick used by Tommy Hilfiger to make consumers talk about them?
Regards, Soren